Mary Kom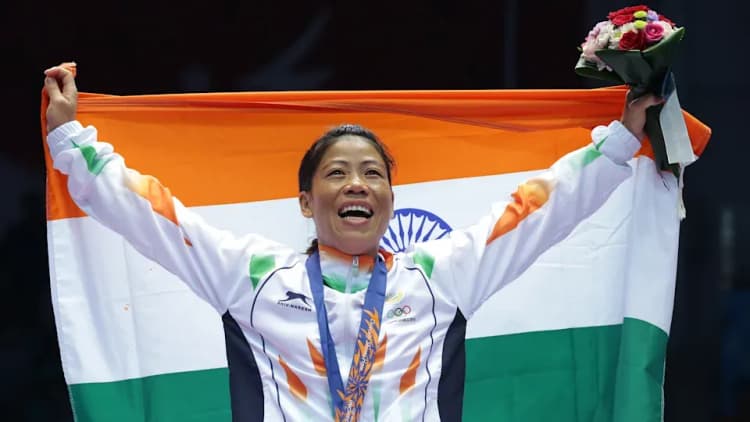 Mary Kom, whose full name is Chungneijang Mary Kom Hmangte, is an Indian boxer and one of the most prominent female athletes in the country's history. She was born on March 1, 1983, in Kangathei, Manipur, India.
Mary Kom is a legendary figure in the world of boxing and has achieved remarkable success throughout her career. She is known for her tenacity, skill, and relentless determination inside the ring. Despite facing numerous challenges and obstacles, she has become an inspiration to many aspiring athletes.
Mary Kom has won several accolades and titles in boxing, both at the national and international levels. She is a six-time World Amateur Boxing champion, making her the most successful female boxer in the history of the competition. She has also won several medals at the Asian Games and Commonwealth Games, solidifying her position as one of the most accomplished boxers in the world.
In addition to her boxing achievements, Mary Kom has been an influential figure in promoting women's sports and empowering young girls to pursue their dreams. She has been a vocal advocate for gender equality and has used her platform to raise awareness about the importance of sports in empowering women.
Mary Kom's remarkable journey and her contributions to boxing and sports have earned her numerous awards and honors. She has been honored with the Padma Bhushan, India's third-highest civilian award, for her outstanding contributions to sports. She has also received the prestigious Rajiv Gandhi Khel Ratna award, Arjuna Award, and Padma Shri, among others.
Outside of her sporting achievements, Mary Kom is also a mother and an inspiration to many for her ability to balance her personal and professional life. Her story has been adapted into a biographical film titled "Mary Kom," further popularizing her inspiring journey and legacy.