Many Nations will follow Sanatan Dharma by 2050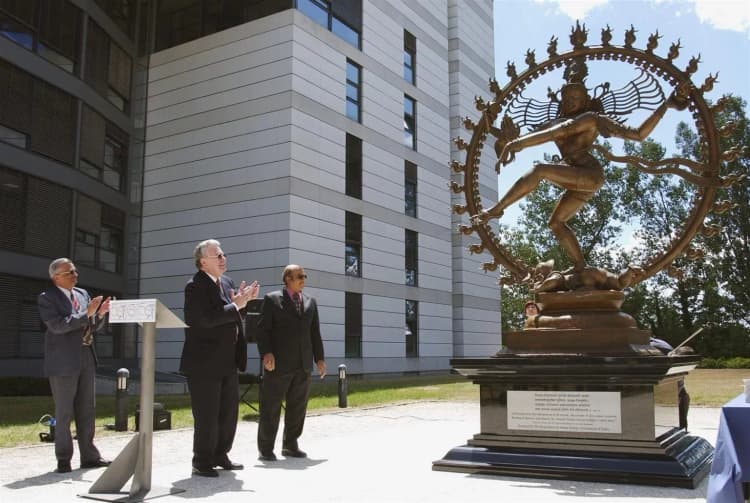 The World Aid
Sanatan Dharma is the oldest living religion which is now to be seen accepting by different nations already. The Modi government has come to the world's aid during the COVID-19 crisis, war situations, natural disasters, and economic crises, in accordance with Sanatan Dharma's philosophy of Vasudhaiva Kutumbakam. Many countries will follow Sanatan Dharma by 2050.
As India celebrates 100 years of independence, the next 25 years will be critical for both India and the rest of the world. Prime Minister Narendra Modi has asked everyone to work together over the next 25 years to restore our country's greatness in all aspects and sectors.
In terms of happiness and peace in individual lives, societies, and countries, the current Western economic model and philosophies have done little to benefit the world. In fact, they have exacerbated the environmental degradation and exploitation of developing and poor countries. Despite material progress in many areas, violence, and mental, physical, and social issues are on the rise, while happiness is on the decline.
Bharat will be vital to humanity's economic, social, and spiritual well-being, as well as the environment. In order to increase not only India's but also the entire world's chances of all people living with dignity, peace, joy, and a sense of belonging, the Modi government is concentrating on economic development while simultaneously addressing social, spiritual, and environmental challenges.
Sanatan Dharma and Modernization
The fact that the economy is gaining traction while the rest of the world is in crisis is entirely due to the policies and actions of the current government. A different perspective and policies are required to put the country on a higher growth trajectory than China and the United States in order to achieve a 30 trillion dollar economy by 2050.
The focus on each sector with Aatmanirbhar Bharat (Self-Reliant India) and training youths as entrepreneurs rather than job seekers with an innovative and research-oriented mindset through the New Education Policy. Another aspect of foreign policy is to respect and value each nation's culture and traditions, rich or poor. Corruption is a significant source of concern. However, stricter laws and more technologically advanced work will not significantly reduce corruption. The more emphasis is placed on developing personal and national character, the less corruption and exploitation there will be.
The qualitative implementation of the New Education Policy and spiritual education from a young age will undoubtedly make a difference, and it will undoubtedly be worked out with the current regime remaining in place for the next 25 years.
The rising traction of the Bharatiya model of the economic and spiritual model will make Bharat the center of attraction for meeting the world's aspirations and material needs in the coming years. Though we are currently struggling to reach a 5 trillion dollar economy by 2025 as a result of the COVID-19 and war crises, once this initial jerk is removed, the economy will accelerate toward a 30 trillion dollar economy by 2050.
Through its holistic approach to treatment, healthy living, and environmental balancing, Bharat will monitor, guide, and control global health. With a focus on a healthy and peaceful world, the Bharatiyas will have strong potential in this area to help their own economy as well as the global economy.
Development in the Village Entrepreneurship
Bharat is made up of villages, and in the next 25 years, approximately 6 lakh villages will change the fortunes of Bharat. Policies should prioritize "Village Entrepreneurship Development" while preserving villages' rich culture, traditions, environment, and Bharatiyatva. This will reduce unemployment, drug abuse, unnecessary conflicts, and, most importantly, the "slavery mentality" that has developed over time.
Prioritizing research and development is another critical aspect. "Incremental innovation is the key to success." The New Education Policy prioritizes research and development, as well as personal and national character development. Governments and other stakeholders should focus on judicially and passionately implementing them over the next 10 to 15 years. The industry should also focus on completely changing young people's mindsets so that they can focus on their creative and innovative abilities, the indigenous development of new technologies, and providing solutions to the world's problems.
Agriculture, Infrastructure Investment
Bharat is referred to as the "farmer's nation." To increase output, current policies encourage the use of best practices and technology. Bharat's agriculture sector is expected to gain traction in the coming years as a result of increased investment in agricultural infrastructures such as irrigation facilities, warehousing, and cold storage. We need to develop more encouraging and supportive policies that promote organic farming so that we can become self-sufficient in the majority of food while also supporting the majority of the world without exploitation. Organic or non-chemically treated food will aid in the prevention of soil, water, and air pollution, as well as the development of a healthy society and financially stronger farmers.
Boost the energy sector
The country's electrical energy requirements are massive. The current government's emphasis on increasing capacity through the use of renewable energy sources is commendable. India is the world's third-largest producer of electricity. As of June 30, 2022, India's national electric grid had an installed capacity of 403.759 GW. We continue to rely on coal-fired power plants despite the fact that they pollute the environment. Focused and effective renewable energy policies must be strengthened so that we can achieve total renewable energy self-sufficiency by 2050 while also assisting other nations with their electricity needs.
We import a lot of fossil fuels, which hurts our economy because it depreciates our currency and is a major source of pollution. As a result, the policy of giving preference to electric vehicles and renewable energy sources will aid in the development of the economy, the strengthening of the rupee, and the reduction of pollution.
The state of a nation's resources determines its health. One's health determines the efficiency, effectiveness, and quality of one's work. On this front, we've been dealing with more serious issues. Quality health care is scarce in many parts of the country, and when it is available, it is prohibitively expensive for the average citizen. Quality health care at a lower cost is desperately needed to help both the socioeconomically disadvantaged and the middle class. The Ayushman Bharat policy of the Modi government is critical, but more policies for holistic practices and treatment, preventive care, and quality services must be implemented over the next 25 years.
Eliminating Poverty
According to a recent World Bank report, extreme poverty in India has more than halved from 22.5 percent to 10.2 percent between 2011 and 2019. Rural areas saw the greatest reduction, ranging from 26.3 percent to 11.6 percent. The rate of poverty decline between 2015 and 2019 was faster than compared to 2011-2015. The current government's priority is to make life easier for ordinary Indians through programs like the Ujjwala Yojana, PM Awas Yojana, Swachh Bharat Mission, Jan Dhan, and Mission Indradhanush, as well as the Deendayal Antyodaya Yojana-National Rural Livelihood Mission and expanded coverage under the National Food Security Act.
Poverty is a curse that afflicts any society or country. Inequality breeds resentment, hostility, unhealthy competition, exploitation, and religious conversion. As a result, the next 25 years will be critical in terms of poverty eradication. Policies that are put in place, as well as efforts to provide quality education and various skills, will empower them.
The Rise of Hindutva for Global Wellness
The rise of Hindutva has been attributed to many people around the world realizing that Hindu Dharma respects everyone, believes in the philosophy of Vasudhaiva Kutumbakam, which means the entire world is my family, and this has been demonstrated on the ground by the Modi government by assisting during the Corona crisis, war situations, natural disasters, and economic crises over the last eight years. Many countries will begin to follow Sanatan or Hindu Dharma principles by 2050, and many will practice Hindu Dharma on their own to spread happiness, sharing, and care, and to put a smile on everyone's face.
The current government's foreign policies and actions have fostered a strong bond and respect for Bharat and each Bharatiya, and this will continue. "Dharma is the universal code of right conduct that awakens the common inner bond, restrains selfishness, and keeps the people together in a harmonious state without external authority," MS Golwalkar stated. He went on to say that it is devotion to one's motherland, society, and tradition that inspires the spirit of true service and sacrifice in the individual under the concept of nation.
As the new Vishwa Guru, Bharat will emerge to strengthen each nation in order to make the world a better place to live, not to exploit other nations or seize land or natural resources.
Pass on the Karma!
Multiply the positivity, through the Sanatan
Explore brah.ma
Create an Impact!
Keep Brah.ma Alive and Thriving
or Connect on Social
Soulful Sanatan Creations
Explore our Spiritual Products & Discover Your Essence
ॐ सर्वे भवन्तु सुखिनः
Initiative by brah.ma  2020 – ∞
Built in Kaashi, for the world