PM Modi Commemorates ISRO's Triumph and Enhances India's Space Legacy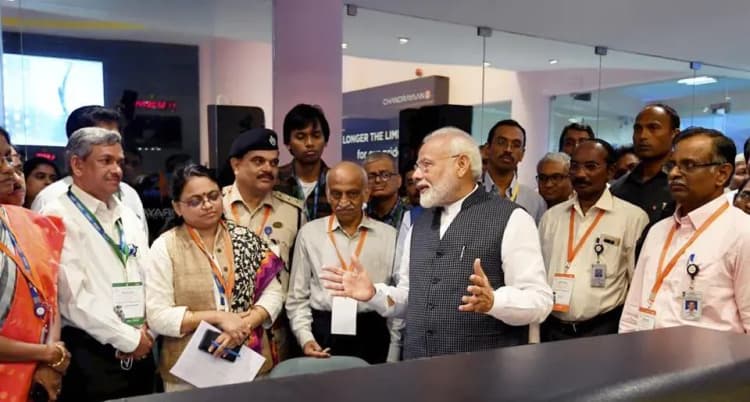 PM Modi Honors ISRO Scientists and Strengthens International Ties
Prime Minister Narendra Modi made a triumphant return to India after a series of impactful international engagements, including a historic visit to Greece and a heartening interaction with ISRO scientists in Bengaluru.
Celebrating ISRO's Remarkable Success
Directly flying from Athens to Bengaluru, Prime Minister Modi extended his congratulations and interacted with the dedicated team of scientists at ISRO who are working on the Chandrayaan-3 mission to the Moon. He lauded their unwavering dedication, acknowledging their role in igniting curiosity among the youth and leaving a profound impact on young minds. During this interaction, PM Modi announced an inspiring decision - August 23 will now be celebrated as 'National Space Day' in India, marking the success of the Chandrayaan-3 mission.
This mission, PM Modi stated, is an 'extraordinary moment' in the chronicles of India's space achievements. To honor the landing site of the Chandrayaan-2 lander, which made a remarkable impact on the Moon's surface in 2019, the site will be named "Tiranga Point."
Furthermore, the Prime Minister shared that the place where the Vikram lander made contact with the lunar surface will be now known as "Shiva Shakti Point." This recognition of the divine underscores India's cultural heritage and its integration with scientific pursuits.
Strengthening International Relations
Before his interaction with ISRO scientists, PM Modi attended the BRICS Summit in South Africa, where he represented India and engaged in constructive dialogues with fellow leaders. Following the summit, he visited Greece, a nation that had not been graced by an Indian Prime Minister's presence for four decades. PM Modi's visit was prompted by the invitation of his Greek counterpart, Kyriakos Mitsotakis.
A significant highlight of the Greek visit was PM Modi's reception of the Grand Cross of the Order of Honor from Greek President Katerina N. Sakellaropoulou. Expressing gratitude for the honor, PM Modi highlighted the warm regard that the people of Greece hold for India.
During the visit, the two Prime Ministers engaged in substantive delegation-level talks. Speaking to the media, PM Modi emphasized the commonalities between Greece and India as ancient civilizations and how these shared legacies facilitate a natural rapport between the two nations.
PM Modi's international engagements not only underscore India's growing influence on the global stage but also highlight the nation's commitment to fostering cooperative relationships and driving scientific exploration.
Pass on the Karma!
Multiply the positivity, through the Sanatan
Explore brah.ma
Create an Impact!
Keep Brah.ma Alive and Thriving
or Connect on Social
Soulful Sanatan Creations
Explore our Spiritual Products & Discover Your Essence
ॐ सर्वे भवन्तु सुखिनः
Initiative by brah.ma  2020 – ∞
Built in Kaashi, for the world