Project 17A Progresses: INS Vindhyagiri Joins Ranks of Advanced Frigates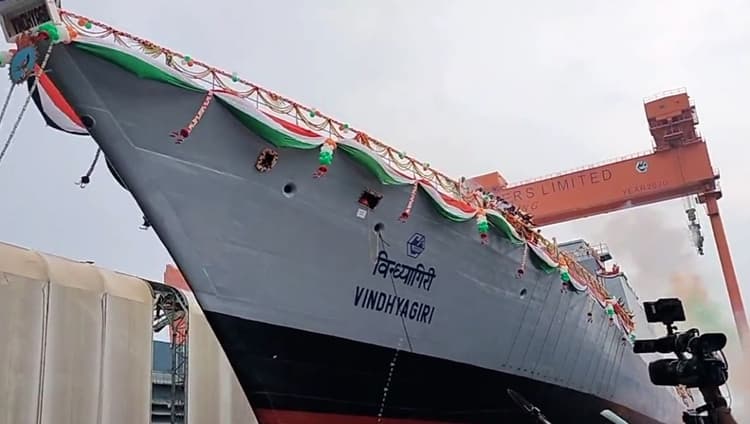 President Draupadi Murmu Launches INS Vindhyagiri, Sixth Stealth Frigate under Project 17A
A significant milestone in India's naval capabilities was achieved today as President Droupadi Murmu officially launched the INS Vindhyagiri, the sixth stealth frigate constructed as part of Project 17A of the Indian Navy. The impressive ceremony took place at the esteemed Garden Reach Shipbuilders and Engineers Ltd (GRSE) on the picturesque banks of the Hooghly River in Kolkata.
The event was graced by the presence of West Bengal Chief Minister Mamata Banerjee, Governor SCV Ananda Bose, Navy Chief Admiral R Hari Kumar, and other esteemed dignitaries. The launch of INS Vindhyagiri signifies a remarkable advancement in India's maritime prowess.
INS Vindhyagiri will soon join its sister ships at the outfitting jetty at GRSE, where it will undergo further equipment trials and activities before its eventual delivery and commissioning. The Project 17A Frigates represent a continuation of the successful Project 17 (Shivalik Class) Frigates, but with notable enhancements including improved stealth features, advanced weaponry, and sensors, as well as cutting-edge platform management systems.
The initial vessels of this series, INS Himgiri, and INS Dunagiri, have already set the standard for this advanced class of frigates. This trio of Nilgiri-class frigates was procured at a substantial cost of approximately ₹19,200 crores, marking the largest contract ever executed by GRSE.
These frigates are distinguished by their impressive specifications - a substantial length of 149 meters and a robust displacement of over 6,670 tonnes. Their advanced propulsion system empowers them to reach speeds exceeding 28 knots, making them a formidable presence on the high seas.
The launch of INS Vindhyagiri underscores India's commitment to bolstering its naval capabilities, ensuring maritime security, and maintaining its position as a formidable force in the region. With these advancements, India's naval strength is set to scale new heights, enhancing its ability to safeguard its interests and contribute to regional stability.
As INS Vindhyagiri embarks on its journey to further trials and eventual commissioning, the Indian Navy takes another stride forward in its mission to safeguard the nation's maritime interests and security.
Pass on the Karma!
Multiply the positivity, through the Sanatan
Explore brah.ma
Create an Impact!
Keep Brah.ma Alive and Thriving
or Connect on Social
Soulful Sanatan Creations
Explore our Spiritual Products & Discover Your Essence
ॐ सर्वे भवन्तु सुखिनः
Initiative by brah.ma  2020 – ∞
Built in Kaashi, for the world