Namsai
Namsai is a town located in the Namsai district of the northeastern state of Arunachal Pradesh in India. It is situated on the banks of the Noa Dihing River, and is known for its scenic beauty, historical significance, and cultural diversity.
Historical Significance
Namsai was the capital of the ancient Tai kingdom of Mong Ri which was established in the 14th century. It was an important center of trade and commerce, and was ruled by the Tai Ahom kings of Assam until the 19th century. The town has several ancient monuments, including the Golden Pagoda and the Namdapha National Park, which are popular tourist attractions.
Things to Do
Namsai offers several exciting activities for tourists, including trekking, hiking, camping, and river rafting. Visitors can also explore the local markets, indulge in local cuisine, and interact with the friendly locals to learn more about the culture and traditions of the town.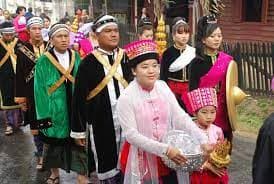 Tribes
Namsai is home to several indigenous tribes, including the c, Tai Phake, and Singpho tribes, who have their unique customs, language, and traditions. These tribes have a rich cultural heritage and are known for their weaving skills, handicrafts, and agriculture.
Famous Places
The Golden Pagoda is a famous Buddhist temple in Namsai, which is adorned with intricate carvings, paintings, and sculptures.
The Namdapha National Park is another popular tourist destination, which is home to several rare and endangered species of flora and fauna.
Famous Foods
The cuisine of Namsai is a blend of various tribal and Assamese cuisines, and is known for its simplicity and natural flavors. Some popular dishes include bamboo shoot pickle, smoked meat, fish curry, and rice cakes.
Off Beat Places
Some offbeat and hidden places to visit in Namsai include the Hayuliang Village, which is known for its beautiful landscape and rice terraces, and the Tengapani River, which is a popular spot for fishing and boating.
Do's and Dont's
Here are some do's and don'ts for traveling to Namsai:
Do's:
Respect the local customs and traditions.
Carry insect repellent and comfortable shoes for jungle treks.
Dress modestly while visiting religious places.
Try the local cuisine, especially the traditional tea made with jaggery.
Visit the tribal villages to learn about their unique culture and way of life.
Don'ts:
Do not litter and always dispose of waste properly.
Do not photograph the locals or their properties without their permission.
Do not enter the religious places without taking off your shoes.
Do not pluck flowers or plants from the forest.
Do not disturb the wildlife or their habitats.
Conclusion
Namsai is a beautiful town in Arunachal Pradesh, which offers a unique blend of culture, history, and nature. It is an ideal destination for those seeking peace and tranquility, and is a must-visit for nature lovers and adventure enthusiasts.
FAQ's
Q. What is the best time to visit Namsai?
A. The best time to visit Namsai is between October and March, when the weather is pleasant and ideal for outdoor activities.
Q. How to reach Namsai?
A. The nearest airport and railway station to Namsai are located in Dibrugarh, Assam. From there, you can hire a taxi or take a bus to reach Namsai.
Q. What are the popular activities to do in Namsai?
A. Some popular activities to do in Namsai include trekking, hiking, camping, river rafting, exploring the local markets, and interacting with the locals.
Q. What is the local language spoken in Namsai?
A. The local language spoken in N