Tawang
Are you hoping to go away to Arunachal Pradesh's mountains? If so, Tawang is the ideal destination for you. Tawang, which is located at a height of 3048 meters in the heart of the majestic Himalayas, is renowned for its beautiful scenery, waterfalls, and spiritual significance. The town offers something for everyone, whether you wish to savor the beauty of nature or discover the rich history of the northeast.
tawang's significance and it's importance
One of the most significant districts in the Arunachal Pradesh state of India is Tawang. It is also important from an Indian geostrategic perspective. South Tibet, according to China. Thus, the territorial delineation disagreement has had an impact on India and China's geopolitical relations. The Monpas expressly assert that Tibet, not China, is their shared border neighbour in India (www.economictimes.com, 22 April 2017). Yet, in the context of India-China ties, the Tibetan account of Tawang has received little attention.
10 things to do in Tawang
1.Taktsang Gompa-meditate here: Meditating in the renowned Taktsang Gompa monastery is one of the top things to do in Tawang, the home of the Dalai Lama. This monastery aids you in discovering your inner calm because it is perched atop a hillock between 12,500 and 13,000 feet above sea level, surrounded by a thick evergreen forest and majestic mountains. One of the most well-known tourist destinations in Tawang is the Taktsang Gompa. The only sounds you can hear are the wind blowing and your heart pumping amid the serene surroundings. This location's general vibe is so serene and comforting that I wouldn't want to leave at all. Avoid travelling in the winter as roads may become blocked by snowfall.
2.gorichen peak-go hiking: Going on a hike up Gorichen Peak is one of the tourist favorites in Tawang. Gorichen Peak, the tallest peak in Arunachal Pradesh and third highest in the Northeast, is perched at a height of 22,500 feet. This trekking route is endowed with the perfect environment and a terrain to test the intrepid side of you. The peak, which is well-known for being a challenging trekking location, has stunning 360-degree views of the environs. You will undoubtedly fall in love with this trek's spectacular splendour of this beautiful peak. On your list of things to do in Tawang, Arunachal Pradesh, be sure to include this hiking expedition!
Plan a trip to Nuranang Falls, which is about 25 km away.
3.Tibetan settlement market-shop till you drop: One of the enjoyable things to do in Tawang is shop in the Tibetan Settlement Market. Local stalls and shacks at the side of the road make up the Tibetan settlement market, also known as Vihara market. The local cafés and businesses in this area are well-known for selling traditional goods, and Chinese pottery is also widely available here. Also, you can purchase Buddhist religious things like flags, prayer wheels, sculptures of the Lord Buddha, wall hangings, and more, and return home with presents and lifelong memories.
Don't forget to sample the native cuisine in this area.
4.Nuranang waterfall-witness nature's magic: A popular activity in Tawang is visiting the Nuranang waterfalls, which are around 40 km from the town and are located at an elevation of about 6000 feet. Nuranang Waterfalls, one of Arunachal Pradesh's most beautiful waterfalls, is a milky white waterfall that looks and feels like a dream.
Best visited as a pit stop on your route from Tawang to Bomdila.
5.Shonga-Tser Lake-spend a day: The renowned Shonga-Tser Lake, where spending a few hours makes for one of the tranquil yet exciting things to do in Tawang, is situated around 17 miles from the main town. In the summer, blue lapis flowers surround this lovely lake, and in the winter, a layer of snow covers it. The lake, which was formed by an earthquake, is certainly a once-in-a-lifetime experience with its quiet waters, colorful birds on the banks, snow-covered Himalayas in the background, and peaceful surroundings.
6.The dragon restaurant-satiate your taste buds: When planning a trip to Tawang in December, be sure to stop at the one and only Dragon Restaurant in the Old Market to sample some of the regional specialties. They are known for Churpi, a fermented cheese soup made with mushrooms and vegetables, which is their most popular local cuisine. Savor the earthy native flavour. Tibetan momos, spicy chicken, and salty Tibetan yak-butter tea are some other specialties you must try. Every dish offered here is a flawless fusion of traditional North-Eastern cuisine and the fiery influence of Monpas. The best thing to do in Tawang, Arunachal Pradesh, is to visit this restaurant if you enjoy experimenting with indigenous cuisine.
Try the Churpi dish if you can.
7.bumla pass-great place for sightseeing: The Bumla Pass, which is situated near the Indo-China border about 37 kilometers from Tawang, is one of the most well-known tourist destinations in Arunachal Pradesh. As an Indian, I feel proud to visit this important boundary. The mountains coated in snow make for fantastic photo opportunities. To obtain permission to visit the pass, don't forget to stop by the Tawang District Office of the Deputy Commissioner and the Indian Army Cantonment in Tawang. Plan your journey on a clear day with no chance of precipitation if you intend to go sightseeing.
Advice: A permit is required to visit Bumla Pass.
8.Spend a Day at Tawang Monastery: The monastery is a popular tourist destination in Tawang because of its fascinating history, beautiful architecture, and prime location. It provides a breathtaking perspective of Tawang town and the surrounding valleys, especially the lovely Tawang-Chu valley. The style of this monastery is akin to a high-walled fortress, with lofty stone walls enclosing the expansive sanctuary spanning the hill. This palatial monastery serves as both a place of worship and an institution in its own right.
More than 400 Buddhist monks of various ages live in more than 65 residential complexes, which also serve as the administration for the several monasteries.
7 AM to 7 PM are the business hours.
No admission charge is required.
2 kilometers separate you from Tawang.
9.pay tributes at the Tawang war memorial: Visits to the Tawang War Monument are the best way to learn about Tawang's past. It is one of the best sites to visit in Tawang where you can pay respects to the murdered Indian troops who gave their lives in the 1962 Indo-China War and in whose memory this 40-foot edifice stands amid the Himalayan mountains, looking out over the lovely Tawang-Chu valley.
You can up a few steps to the Tawang War Monument, which is designed to resemble a stupa. As you pass the lists containing the names of the more than 2500 Indian troops who lost their lives in the battle, prayer flags fill the skies.
7:45 AM to 6 PM are the opening hours.
No entrance fees
distance from tawang-1km
10.madhuri lake-maggie with natures magic: There are verdant valleys and snow-capped mountains all around this stunning lake. And sometimes all you need is a bowl of Maggi, therefore there is a cafeteria close to the lake where guests may enjoy momos or Maggi along with a cup of tea or coffee. The best approach to enjoy the gorgeous surroundings of the lake that the Indian Army manages is to take a leisurely stroll.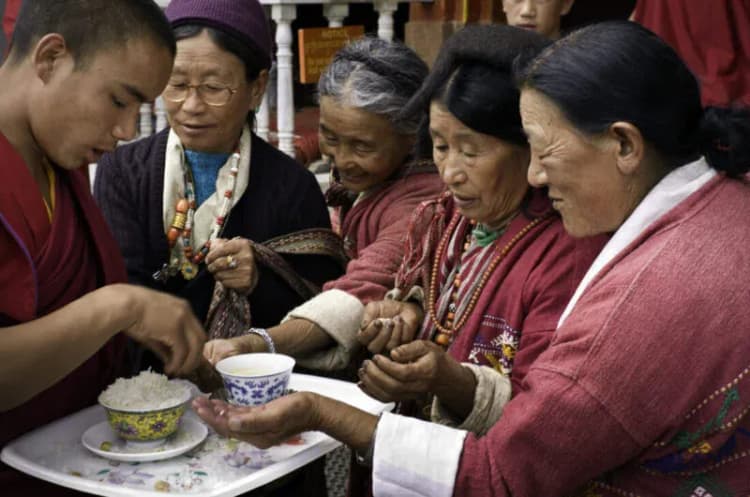 famous foods in tawang
1,Pika Pila: The Pika Pila is a dish that is traditionally eaten in Tawang and can be found in every home and restaurant there. This pickle, which mixes well with rice, curries, dried fish, etc., is thought to have been invented by the Apatani tribe. Pika Pila, one of the most well-known foods of Arunachal Pradesh that you must taste on your next trip, is made with pig fat and bamboo sheets.
2.Thukpa: In the North East, Himalayan people adore this complete supper. Depending on the kind of readily available meats and veggies, each state in this region of India has its unique variation of thukpa. In Arunachal Pradesh, this Tibetan dish is made with noodles, vegetables, stock, and meats.
3.Bresi: The Bresi is a delectable meal that will make your heart sing and dance with happiness. It is made with rice, sugar, dried fruit, and melted butter and is very well-liked during festivals. During Diwali and other local celebrations, you may smell the wonderful scent of Bresi in the streets of Tawang.
4.Ngatok: There are several customs that are still followed in Arunachal Pradesh even if the cuisine has changed throughout time. One such delicacy prepared in the same manner as a century ago is ngatok. Fish pieces that have been marinated are cooked in a stone pot with red chillis, tomatoes, and spices after being wrapped in leaves. Steamed rice or Dung Po is used to parse it.
5.Puta: Puta is another meal made with noodles that is popular among the natives. This dish is a no-brainer because it's made with buckwheat noodles, fermented soybeans, spring onions, chives, chillis, and garlic. It goes well with some Apong or Apo, a fermented rice-based alcoholic beverage.
6.Lukter: Your palate would be surprised by the uniqueness of Arunachal Pradesh's cuisine! The first bite of the beef-based meal lukter will leave you speechless. This roasted beef recipe is the perfect supper for a chilly Tawang winter evening because it will keep you cosy and toasty.
famous places to visit in Tawang
1.Nagula Lake: Nagula Lake, a little, lonely lake, is one of Tawang's most picturesque lakes. The snow-capped mountains and the stunning surroundings are reflected in the crystal-clear waters, which provide the viewer with perfect happiness. If you linger a little longer, you might be able to see the Brahminy ducks near the lake. You quickly forget about whatever exhaustion you may have had travelling on the poor roads to get here thanks to the lake's picturesque charm.
Nagula Lake attractions include relaxing in the natural beauty of the area and taking pictures of the stunning Brahminy ducks that live nearby.
2.geshila peak: Geshila Peak, the peak closest to Tawang, is a tranquil and magnificent peak that is situated 25 kilometres from Khrimu. A traveller only has a very limited number of opportunities in his lifetime to appreciate the enormous grandeur of the view that this mountain affords. Geshila Peak is a highly well-liked site in Tawang for this reason as well.
43.6 kilometres away from Tawang
Enjoy Geshila Peak's calm surroundings and use a top-of-the-line camera to capture its breathtaking splendour.
3.Taktsang Gompa: About 40 kilometers from Tawang, Taktsang Gompa is a monastery perched on a hill and encircled by stunning mountains and evergreen trees. It is said that Guru Padmasambhava's visit in the seventh century consecrated it.
The monastery is divided into three levels, each honoring a Tibetan god. In the rear of the main compound, it also houses Guru Padmasambhava's den. When you start your Tawang sightseeing, including this location on your schedule to enjoy quiet and tranquilly like never before!
39.1 kilometres away from Tawang
Activities at the Taktsang Gompa in Tawang include admiring the architectural grandeur of the building and taking some time to meditate in order to unwind and experience the peace this monastery gives.
Taktsang Gompa in Tawang is open from 8:00 AM to 4:00 PM.
Entrance Fee: 500 INR
4.Samten Yongcha Monastery: With your loved ones, explore the magnificent and spiritually alive Samten Yongcha Monastery. This unusual environment, which is atop a hilltop, looks like it was created by an artist.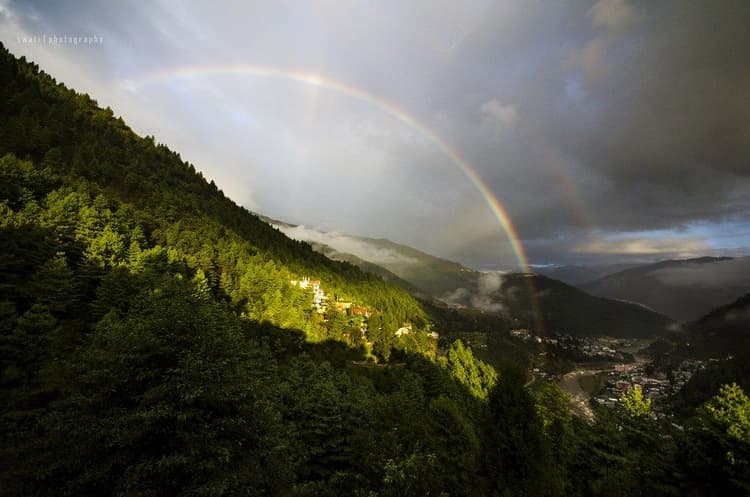 hidden places in Tawang
1.Chagzam Bridge: You can schedule a visit to the Chagzam Bridge, another popular tourist destination in Tawang, which is located around 25 kilometres from the main town. A student of the first Dalai Lama, Tangton Gyalpo constructed the bridge. Lama Chag-Zam Wangpo, also known as Tangton Gyalpo, is credited for building more than a hundred iron bridges throughout the area. He is also a noted architect and philosopher. He constructed the Chagzam Bridge, which crosses the Tawang-chu River and links Mukto and Kipti, between 1420 and 1430. This structure is thought to be an excellent example of the best metallurgy practices at the period.
2.Dirang:The mysterious settlement of Dirang will be encountered en route from Guwahati to Tawang. When in the North East, you must visit any monastery that comes your way, so spend a day exploring this hamlet, talking to the inhabitants, and touring the stunning Dirang Monastery.
3.Penga Teng Tso Lake: This stunning lake is nothing less than a masterpiece on a clear blue canvas. The best gift you can give yourself is a landscape with mountains, clouds, forests, and a large lake to just sit by mindlessly. Take your time when you're there to fully appreciate this colourful scenery, first with your eyes and then, of course, with a camera. It will be among the most lovely places you visit while visiting Tawang.
basic do's and don't in Tawang
do's: Because the weather in the northeast is so erratic, plan on experiencing delays as a result of the inclement weather.
Particularly from Bomdila onward, the roads leading to Tawang aren't in the best condition.
The locals are welcoming and helpful. Keep your cool because not everyone speaks Hindi or English well.
As most cell phone networks don't function well, whenever possible let your family or friends know where you are.
If you strictly adhere to vegetarianism, don't forget to bring some ready-to-cook food packets or instant noodles.
Bring extra batteries, power banks, and warm clothing above all else.
Keep at least a few additional days on hand in case you encounter any issues along the journey, such as landslides or harsh weather.
don'ts: Avoid getting close to the waterfall because there is a danger you could slip and be wounded.
Do not run on snow-covered regions.