Durga Pooja is a festival mainly celebrated in the parts of West Bengal and Kolkata, where Lord Durga is worshiped for 9 days. It is commonly celebrated as Durgotsava or Sharodotsava in every part of India. A festival mainly celebrated in the month of September- October. It's a Hindu festival honoring the Mother Goddess and the Warrior Goddess Durga's victory over the evil Mahisasura.
In the Universe, the event celebrates female strength as 'Shakti.' It's a festivity in which Good triumphs over Evil. Many people call it Navaratri.  Navratri means "nine nights". During these nine nights and ten days, nine different manifestations of the goddess are worshiped. It's almost as if we're allowing ourselves the time and space to renew and purify ourselves from the inside out. Let us have a look at the various methods by which India celebrates Navratri and see how diverse it is.
Navratri Celebration in Northern India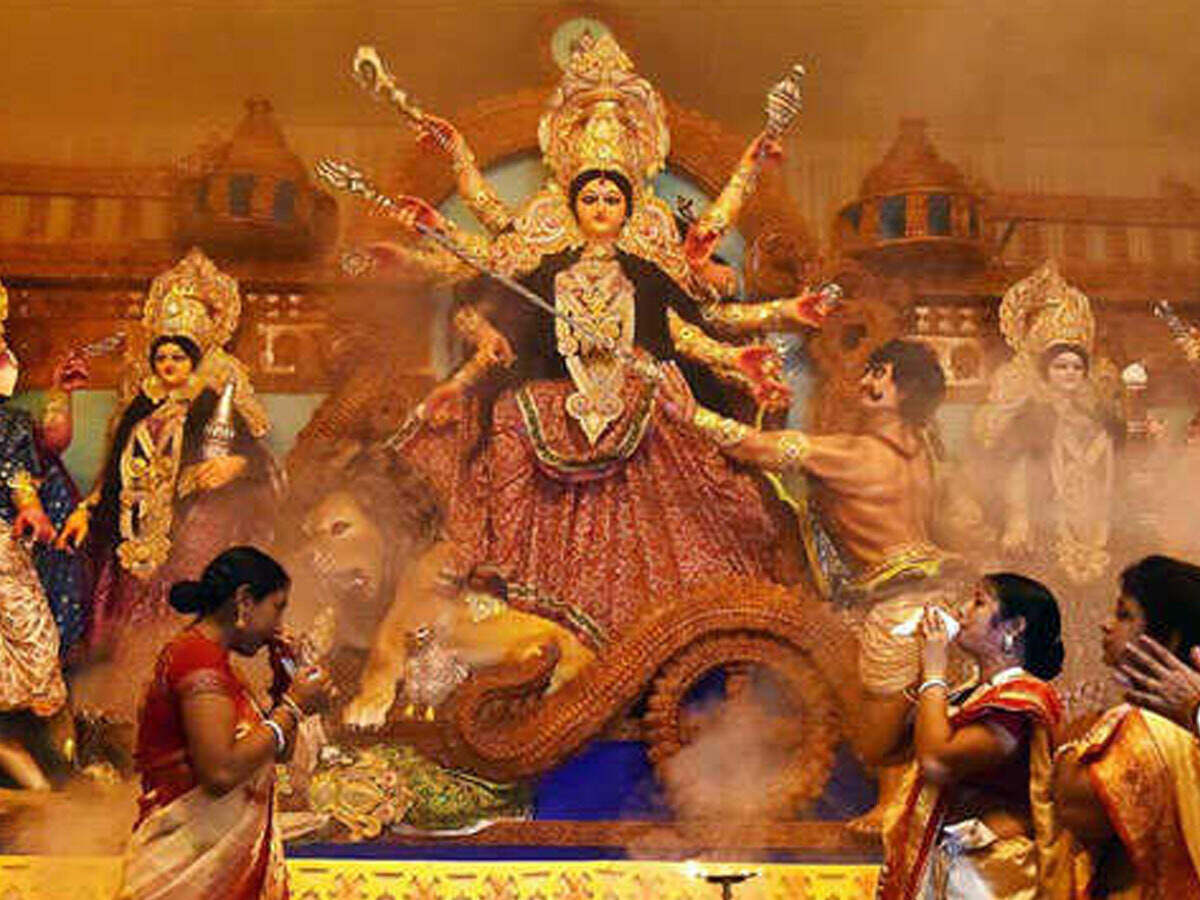 In North India, Navratri celebrates the victory of Lord Rama over the evil king Ravana. The Ramlila, which is enacted ceremoniously during Dussehra, is the culmination of the festival. On the 'Vijaya Dashami' day, effigies of Ravana, Kumbhakarna, are burned to commemorate the victory of good (Rama) over evil forces. Giving gifts during Navratri is a fairly prevalent ritual. Sweets, Indian men's and women's clothing, and things useful for the house are all possible.
"My greatest memory of Navratri is being invited by the neighbours on the eighth and ninth days, and being worshipped like a goddess," says Shobhita Sharma, a Delhi-based architect.
Navratri Celebration in Eastern India

In West Bengal and North East India, the last five days of Sharad Navratri are known as Durga Puja. Devi Durga is seen riding a lion and wielding numerous weapons. The lion represents dharma, or willpower, while the swords indicate the focus and severity required to rid our minds of negativity. Durgashtami is the eighth day of the Hindu calendar. In temples and other locations, life-size clay idols of the Goddess Durga representing her destroying the monster Mahishasura have been erected.
These idols are then worshipped for five days before being immersed in the river. "Around here, Navratri is praised as Durga Puja, for which we begin arranging a very long time ahead of time," says Jonaki, an engineer from Kolkata. These five days of puja are intended for unwinding, family time, and visiting a few Durga puja pandals, each with its own topic and vibe, and, obviously, a delightful and life-sized symbol of the goddess Durga.
Navratri Celebration in Southern India
In south India, Navratri is an ideal time to welcome companions, family members and neighbors over to check out the Kolu, which is basically a display of different dolls and puppets. In Kannada, this display is called Bombe Habba. Navratri is alluded to as Dasara in Karnataka. Yakshagana, a night-long dance as epic shows from puranas are sanctioned during the nine evenings of navratri. The Mysore Dasara is commended with extraordinary ceremony and show portraying the victory over evil. It is seen as the state celebration guided by the illustrious group of Mysore and their enormous savari.
Navratri celebration in Western India
The famous Garba and Dandyaras dances are mainly performed in Navaratri, West India, Gujarat. Garba is an elegant dance technique in which women dance in circles around a lamp-filled pot. An alternative to the Garba is the dandiya dance, in which men and women dance in pairs holding small ornate bamboo sticks called dandiyas..
"In Gujarat, we play Garba for 10 days, from nine o'clock in the evening until four o'clock in the morning, every day. Remember that each city, whether it's Ahmadabad or Baroda, has its distinct Garba style"- said Jeenakshi, a doctor in Gujarat.
At last, Navratri is about reuniting with something much larger than ourselves, and these rituals are only tools to assist us do so.
These nine days have also been set aside for us to rest, rejuvenate, and reconnect with ourselves, allowing us to better connect with our loved ones and celebrate life.
~Saniya Mishra