Ananta Vasudeva Temple
History
The Ananta Vasudeva Temple in Bhubaneswar has an intriguing history. It was built in the 13th century by Queen Chandrika Devi of the Eastern Ganga dynasty. However, legends suggest that even before the temple's construction, an idol of Lord Vishnu was worshipped at the same location. Later, in the late 17th century, the Marathas, who had expanded their rule to Odisha, renovated the shrine.
One of the significant celebrations at the Ananta Vasudeva Temple is the vibrant Hindu festival of Janmashtami, which commemorates the birth of Lord Krishna. The temple is adorned with beautiful floral decorations and illuminated with lights on this auspicious day. Devotees immerse themselves in prayer chants and devotional songs, creating a spiritually uplifting atmosphere. Thousands of visitors flock to the temple, offering milk, butter, sweets, curd, and flowers as a homage to Lord Krishna.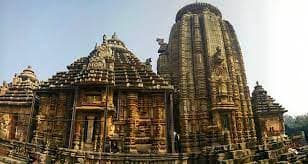 Architecture
The architecture of the Ananta Vasudeva Temple is renowned for its exquisite Kalinga style. Notably, the pillars and walls are adorned with intricate carvings depicting episodes from various Vaishnavite scriptures. The entrance tower, or Gopuram, showcases artistic carvings of gods and goddesses, illustrating captivating mythological tales. The temple's spires, known as Shikharas, are also adorned with a variety of sculpted images.
The main shrine of the temple comprises four sections: the sanctum, Jagamohana, Bhogamandapa, and Natamandira. Inside the sanctum, one can find the idols of Lord Balarama, Lord Krishna, and Goddess Shubhadra.
This temple holds significant importance for Vaishnavites as it is dedicated to Lord Vishnu. Within its sacred walls, the deities worshipped include Lord Vasudeva (Krishna), Lord Ananta (Balarama), and Goddess Shubhadra.
The temple's kitchen is a notable feature, where the sacred Mahaprasad, also known as Abhada, is meticulously prepared in earthen pots using firewood and traditional earthen stoves. This consecrated food is initially offered to the deities and subsequently distributed to devotees at the Bhoga Bazaar, located adjacent to the temple. The entire atmosphere resembles the Ananda Bazaar of the Puri Jagannath Temple.