-Yoga Day- or Yoga Every Day
null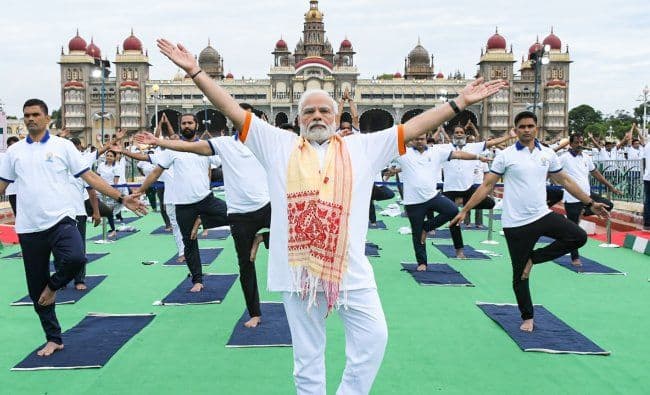 Yoga for All
Mother: Get ready you've to do Surya namaskar.
9 years old Nimmi: But why mommy? It's time for me to sleep, why did you wake me up at 6 in the morning?
Mother: Kid, today is International Yoga Day. Everybody will be posting about it on WhatsApp stories, what am I gonna put up? It's just a matter of 10 minutes, I will make a short clip and then you can have your sound sleep.
Nimmi: YOGA!!! But baba does it every day, aren't we supposed to do it every morning?
21st of June, since 2015, is celebrated as International Yoga Day. The theme for the year 2021 is "Yoga for all being". The theme makes its stand strong in today's time when the entire world is trying hard to cope up with this pandemic.
Yoga is the root of peace and harmony. It's something more than exercise having spiritual ends. Nothing can be more beneficial if we want to attain a balance between body, soul, and mind.
Multiple problems: depression, anxiety, mental health; one solution: Yoga. It improves respiration and vitality. All age groups get physical and mental benefits from yoga and hence, it can be practised at any age.
Yoga becomes an integral part of treatment and healing when it comes to recovery from an illness or surgery. Slow movements and deep breathing increases the blood flow in the body and warm up the muscles. Stretching, a part of yoga posture helps in easing pain and improving mobility in people with lower back pain.
The healthier the heart, the happier it is. Regular yoga habits reduce levels of stress and body inflammation, keeping the heart and mind more alive.
High blood pressure and obesity can also be addressed through yoga. Health is wealth and yoga serves as every little penny we must collect to become wealthy. The mental techniques included in yoga to discipline the mind are breathing exercises or pranayamas and meditations. This promotes self-healing and removes negative blocks from the mind.
Meditation, too, serves a lot of purposes such as increasing concentration and focus, bringing self-awareness more into consideration, etc. But, of course, it is not a substitute for medicines. A proper diet, i.e, healthy food, green leafy vegetables, and fruits are necessary with yoga.
Even celebrities chose yoga in their daily life. Yoga asanas practise improves flexibility, fitness, and endurance. The more it is practised, the more the improvement is seen within oneself. Viparita Karani, Pawanmuktasana, Surya namaskar , Balasana , Uttasana are some of the forms of yoga practiced for curing different ailments. Youth in recent times are widely exploring fields like that of a yoga instructor, yoga therapist, health trainer, assisting clinical psychologists, etc. There are professional degree courses too.
Rather than putting it up as a show for a day, it would be great to have a show of healthy life through practising yoga every day. Beginning the day with yoga and fresh air and ending it with family and coffee and sometimes with movies and popcorns won't be a wrong choice. After all, mental peace is more important than a chicken piece. So, let's join hands with yoga to help us balance the two. Eat, sleep, yoga, repeat and at times, cheat! Have a cheat day for your favourite food and compensate the next morning.
Yoga is not only about 'Rog Mukti' ( eradication of diseases) but also ' Bhog Mukti' (renunciation of worldly desires).
- PM Narendra Modi
Explore brah.ma
Create an Impact!
Keep Brah.ma Alive and Thriving
or Connect on Social
Soulful Sanatan Creations
Explore our Spiritual Products & Discover Your Essence
ॐ सर्वे भवन्तु सुखिनः
Initiative by brah.ma  2020 – ∞
Built in Kaashi, for the world